Before the post about weaving earlier this week, I know it had been MONTHS since my last blog post. I haven't been idle! Besides raising the not-so tiny human (she's 2.5 now, can you believe it?), working the day job, and weaving projects, I've been working on new jewelry:
Chainmaille and Crystals! The necklaces run around $60 and the bracelets run about $30 (depending on length) – your choice of colors! These are aluminum rings creating a cage around round Swarovski Crystal beads.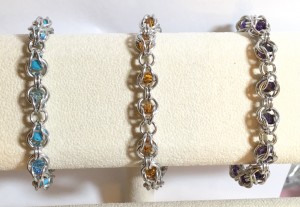 I've also started playing with chainmaille pendants. Here's one I sent to a friend, a rainbow heart! I'm looking at other color combinations and other shapes too. This heart is built on the same style as my chainmaille snowflake and chainmaille christmas tree ornaments.